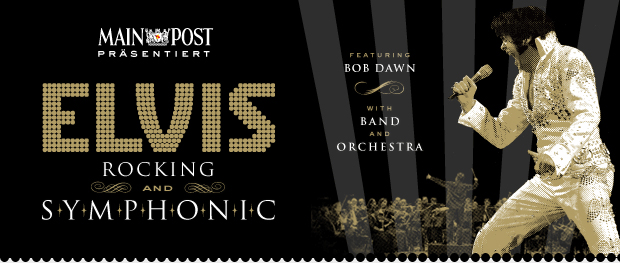 Elvis – Rocking & Symphonic
The MAIN-POST presents at Friday 07.12.2012 the biggest Elvis-Show of Europe.
The 25man band is guesting with its unique bombast show in
Congress Centrum in Würzburg.
That Concert Highlight we want to offer to your hearts.
ONE OF THE MOST SPECTACULAR REVIVAL SHOWS!
Rock'n'Roll meets Orchestra. Meet
Bob Dawn as Elvis supported by his band and a 25man orchestra!
JAILHOUSE ROCK IN A COMPLETELY NEW DIMENSION!
Authentic sound and an unforgettable show – the hugest Elvis Hits,
in a breathtaking interpretation by one of the world´s best
Elvis Impersonator: Bob Dawn.
REVIVAL-SHOWS ARE LOTS OF,
THAT ONE IS UNIQUE!
No synthesizer sounds, no Karaoke, no Playback.
With the original arrangements for strings, choir and brass the
legendary Elvis´ Las Vegas Concerts will be awakened again.
Make sure to get your tickets today.
By phone at +49 (0) 931 – 4607295
More information about this fantastic show: www.elvis-rs.de
You still have any questions about the show? You want to come with your company?!
Just call us, we are glad to be there for you!
Tel: +49 (0) 931 – 4607295