The Soloist Project: Ally the Fiddle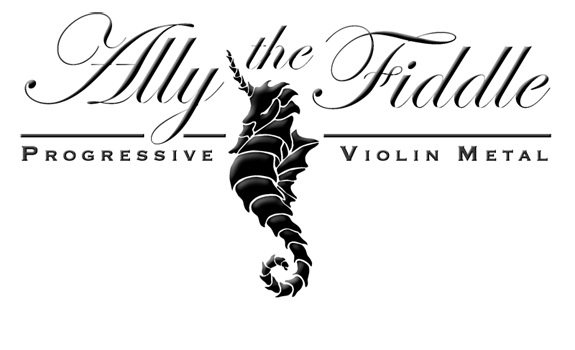 "Ally the Fiddle" is a band from North Germany. To describe a musical style you would surely use words, like folky, rocky, instrumental, progressive… The basement builds a typical rock band, containing two guitars, a bass and drums. Unusually in the foreground stands the violin, but also the dialogue between guitar and fiddle. The violin mainly replaces the voice, but for sure the voice will not be missed out.
Most of the arrangements and compositions are based on irish tunes, sometimes defamiliarized to unrecognizability. The band merely targets to wrest the violin from her classical prejudices and show her variability in the rock genre.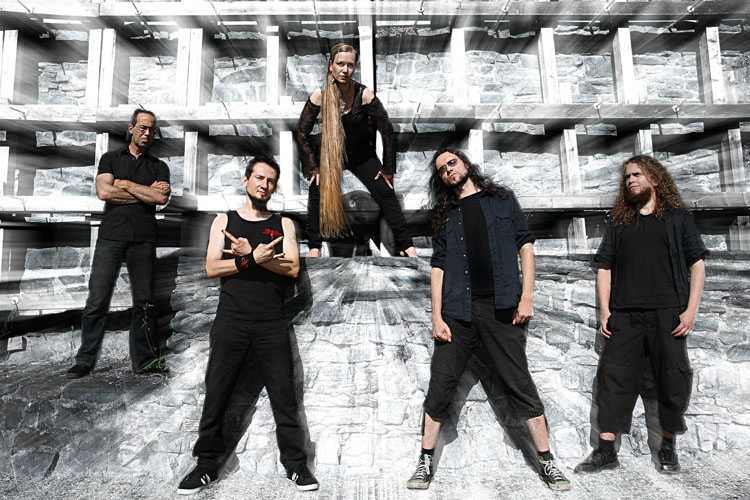 Band members
f.l.t.r.:
Ally Storch (violin, fiddle, e-violin); Diemo Heuer (guitar); Stefan "Huky" Hukriede (drums), also "Asps Von Zaubererbrüdern"; Robert Klawonn (guitar), also "Poised"; Simon Tumielewicz (bass), also "Decision"
Sound (Excerpt from "The Crumbling Autumn")
Bandhistory
In the essence of her artist´s career Ally Storch resolves in 2008 to come up with a first CD with own compositions and beloved tunes in own arrangements. Stefan "Huky" Hukriede immediately takes part of the recordings. He was playing for many years Irish Folk together with Ally. On the search for a guitarist Robert Klawonn becomes the first recommendation and the Co-writer for Ally. Still the CD is published under "Ally the Fiddle", Ally´s artist´s name due her times as Folk fiddler.
After the recordings Robert invited guitarist Diemo Heuer and Huky bassist Thorsten Hartung to join the band. The name of the fiddler now became the new name of the band.
A count of concerts, festivals and support shows, f.i. for "Haggard" and "Umbra et Imago" followed, until "Ally the Fiddle" got some bigger events in 2011, like the Wave Gotik Treffen, the Festival Mediaval, a support tour for the english band "U.F.O.", a support tour for the former of the US american band "Toto" and a support tour for the german band "ASP".
Publications
2013 "The One", LP
2011 "The Crumbling Autumn", Single
2008 "Red Unicorn", EP
Management
Ally Storch, mail[at]ally-fiddle.de

Booking
Crush Concerts
Jens Frerichs
Spittastr. 31
D-10317 Berlin
Fax +49 (0)30 29776468
info[at]crushconcerts.com
www.crushconcerts.com

Internet
Band´s website ally-fiddle.de
Nauticorn Edition Nauticorn Edition
Merchandise at Fantotal.de and in ASP´s band shop
CDs and mp3s at CDBaby and Amazon
Newsletter: news[at]ally-fiddle.de

Press
"[…] Studied violinist Ally found an excellent musical partner in guitarist Robert Klawonn. So they enlightened some real fireworks on stage with their violin and guitar solos, sometimes in the spirit of Folk, sometimes in Metal sounds. Robert's manner to play shows his incredible high technical skills. Fast fingers and his taste of a unique guitar sound are his trademarks. […] 'Come with me' of the actual CD has been the first track this evening, where Ally was singing. This is something new and something enriching for the band, which had only instrumental songs in it's setlist. With her pleasant voice, sometimes bright, sometimes really deep, she gives her own compositions a new sound color. But the main color sill comes from her string instrments, the violin and the 5 string violin, which was uniquely crafted for her. […] Ally and her guys managed to increase the mood in the audience from the very beginning and to raise it high. The band's incredible joy of playing immediately entered the audience… […] All that's left to say is, that I furthermore wish a successful career for the band. They deserve it!"

Concert review about "The One" by Bodo Kubatzki

"…sound, that storms out the boxes and blows away all prejudices against boring traditional folk music, without denying the roots […] provokes to wild dancing, to head banging, to air guitar or air violin playing and to press the`repeat button`…"

Axel Schön, Orkus-Magazine 2008

"…Oppressive guitars and deep bass lines support perfectly the tender sounds of the fiddle. Here softness meets pleasant hardness…"

Simone Bösch, Metal Hammer 2009

"…Long time ago we were taking about the stereotypes, that classical string instruments only have their existence in the orchestra pits of opera houses. Ally the Fiddle prove the opposite. Who claims there, head banging and sting instruments would not belong together, should cut off his hair and donate it for Ally´s bow…"

Nina, necroweb.de 2008